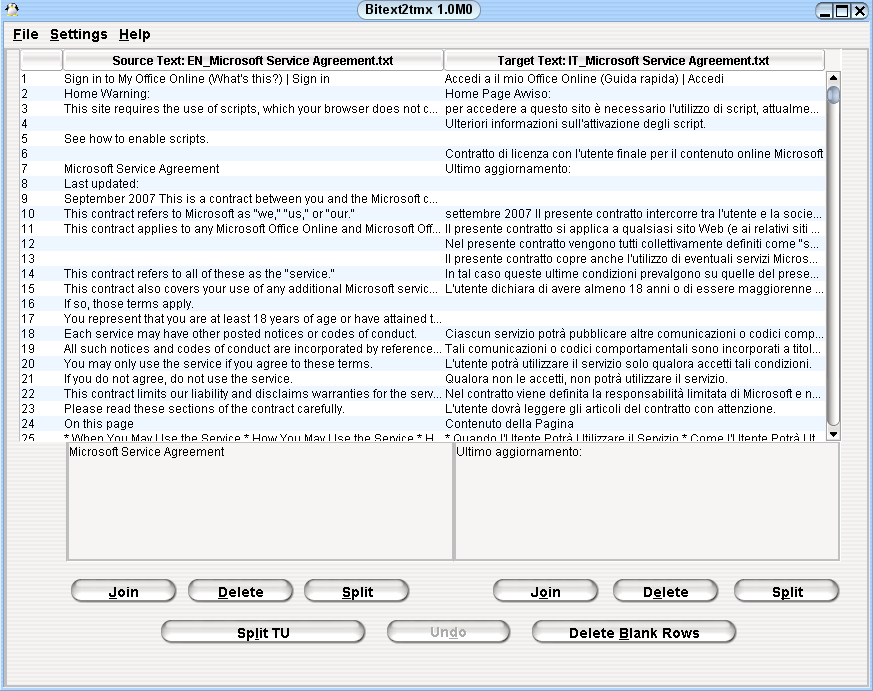 Bitext2tmx is a program written in Java (and therefore cross-platform) that allows to segment and align corresponding translated sentences from plain text files and generate a TMX translation memory for use in computer-assisted translation applications.
The program is quite straightforward: once you have two TXT files (the source document and the corresponding translation) open Bitext2tmx, then choose File > Open, choose the source and target TXT files and set the relevant languages and encodings (UTF-8 is supported).
The text files are opened in the program window, where you can fine-tune the alignment by joining, splitting or deleting rows. There is also a command for deleting empty rows.When the text looks properly aligned, choose File > Save as to save the aligned texts as a TMX (v 1.1) memory file that you can then import into the translation environment of your choice.
Compared to its commercial siblings, like Trados WinAlign, Bitext2tmx is pretty basic and lacks the powerful functions and granularity offered by a full-fledged aligner. However, the program delivered a TMX memory as advertised and, given the price, it is a useful tool for lightweight alignment work.
Bitext2tmx requires a A Java Runtime Environment (JRE) and is released as free software under the GPL license.